Visionvet: veterinary ophthalmologists
Visionvet: oculisti veterinari

Italiano

was born in the province of Bologna in 2007.
The Visionvet structure is dedicated to a single discipline: the Ophthalmology of Animals.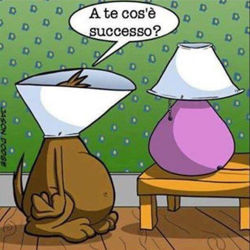 Our doctors have passionately chosen to specialize in the profession of veterinary ophthalmologist to provide the best service to patients: dogs, cats and horses, but not only. Among the cases treated we also find birds, reptiles, rabbits, primates and many other exotic animals.
We are specialists in veterinary ophthalmology, therefore in the treatment of eye diseases, because serious eye problems not only affect humans but can also afflict our animal friends. Combining twenty years of experience and state-of-the-art instrumentation we are able to surgically intervene on cataracts, glaucoma, retinal detachment, uveitis, corneal damage, and more.
To get to know us better, you can spend a few minutes watching the service on our Clinic made by the TRC broadcaster.
The Center is located in a modern residential complex in the center of the triangle formed by Bologna, Ferrara and Modena, easily reachable from all regions. A large parking lot is available right in front of the entrance together with a large condominium park, preserved with the collaboration and respect of all. Parking is particularly convenient for demanding animals such as horses, who are unable to access the Clinic like other smaller patients and are examined directly in their van.
The Center is equipped with state-of-the-art equipment for the diagnosis and treatment of eye diseases.
You can virtually visit our Clinic directly on this site to see the premises and equipment!
We now carry out treatments with the corneal Cross Linking technique, also known as Photodynamic Therapy, indicated for a wide variety of pathologies with the additional benefit of destroying all microorganisms present at the corneal level, valid in dogs, cats and horses.
While in the human field it is now a widespread treatment, in veterinary medicine there are few clinics able to offer it, and in Italy we are the only ones!
For all the details on this treatment click here.
The STAFF is made up of veterinary specialists and experienced assistants.
For the most part we receive cases reported by external Colleagues who need our consultation to help them in the diagnosis or therapy of the ocular pathology in progress, but we will be happy to meet you directly if you wish to entrust us with your partner.
Among the services offered, we also include international certification according to the FSA-SOVI-ECVO protocol for hereditary ocular diseases.
Opening days: the clinical-surgical activity in this Center takes place mainly on Tuesdays and Fridays. However, we guarantee an emergency service 24 hours a day for urgent and serious cases.
However, specialists also work in other Veterinary Centers, located in different regions.
For information and appointments please contact us